1: You really can take it as hand luggage
MagicQ MQ60 easily fits into hand luggage within the MagicQ compact soft bag.
A small console needs to fit in hand luggage.  Do you really want to check your console into the hold?  Do you trust the baggage handlers not to throw it around?  Will it arrive when you arrive?  MagicQ MQ60 is a complete console – the only extra is a lightweight power cable.   Other "small" consoles either don't fit the restrictions or require external monitors and heavy external power adapters.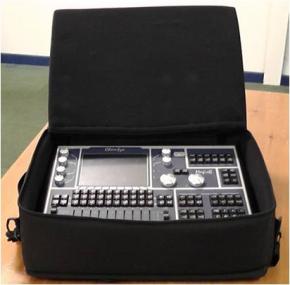 MQ 60 in carry on bag
2: Visualisation and Media Player
As a MagicQ MQ60 owner you get visualisation for 12 universes and media play on 8 layers of HD free of charge.
Visualisation and media playing are very much part of a modern Lighting Designer's toolkit.  MagicQ MQ60 enables you to connect to a PC or Mac running the free ChamSys MagicVis and free ChamSys MagicHD applications.  There is no extra cost.
No other manufacturer offers both Visualisation and Media Player applications for free with a small console.
MagicVIS                                                                                                             MagicHD
3: Plenty of network ports as standard
The MagicQ MQ60 has an inbuilt network switch with 4 network ports as standard, all with profesional etherCON connectors and powered and protected by the internal battery.
Lighting control is now all about networking – from ArtNet and sACN control for lighting, to visualisers, media players, access points for iOS/Android devices – we need lots of network ports.  With Magic Q you don't have the hassle of carrying your own network switch and your own UPS.

5: Remote control capability
The MagicQ MQ60 includes a free remote iOS/Android app, inbuilt multi console operation, remote control and open remote control protocols.
Want to remote control the console from your laptop or handheld device?  Typically small consoles don't include network ports or the port are limited so that only support ArtNet/sACN and no remote control capabaility.
6: MIDI and Audio included as standard
The MagicQ MQ60 includes both MIDI in and out ports supporting MIDI notes, and Audio input as part of the headline price.
MIDI and audio are useful additions for synchronising lighting as part of the overall show.  Beware – many other small consoles state "MIDI" option – this means you have to pay extra and you have to carry another interface around with you.
7: Electronic legending directly above the faders
MagicQ MQ60 labels the 10 playbacks directly above the faders.  The electronic legending ensures that when you change pages or change shows the new legends appear automatically and the operator knows what each playback does.
MagicQ MQ60 clearly shows the Cue Stack name, the current step, the next step and the percentage of the fade complete above each fader.  Despite this becoming an industry standard, some new consoles have even put the faders to the side of the screen!
8: Silent operation
MagicQ MQ60 has no fans and is silent in operation.
MagicQ MQ60 is designed using ARM technology as used in iPads – low power consumption enables it to run without fans.  Most other manufacturers use PC cards take too much power to be fanless – resulting in constant noise on the set or in the house.
9: It has an inbuilt battery
MagicQ MQ60 has an inbuilt battery unlike most other small consoles.
We're all used to phones, tablets and laptops having a battery inside so that you can easily move your device without having to shut it down.  You also need the security of the battery to avoid any problems with power.
10: A competitive price
The MagicQ MQ60 costs the similar or less than other small consoles but with many more features.