QLX Lighting have added ProLights DOTQ battery units to our hire stock.
These ultra-compact, wireless, battery, LED accent fixture are designed to compliment up lighting both indoors and outdoors. The chrome finish allows the unit to sit discreetly in any destination, with the magnet attachment providing the option to attach to metal structures with little fuss.
For more information or to receive a quote you can contact us here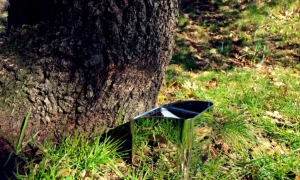 Key features
Even, powerful saturated and pastel colours from single 15W RGBW LED.
Chrome Finish, ultra-compact size and IP65 rating for incredible versatility.
Technical Specifications
Light Source

Source: 1x15WRGBW LEDs
Luminous Flux: 203lm
Lux: 467lux@3m Full
Source Life Expectancy: >50.000 h

Optics

Beam Angle: 15°
Field Angle: 23°
Additional Optics: Magnetic Frost filter included for wider diffusion

Color System

Color Mixing: RGBW/FC
White Presets: 2800-9000K
Color Wheel: Virtual color wheel with presets
Macros: Built-in white presets

Dynamic Effects

Static Color Mode: Selection of static color
Manual Color Mode: Manual adjustment of color
Auto Mode: Built-in programs with execution speed adjustment

Body

Hardware On-board: Frost, foots, IR, charger, bracket
Tilt Angle: °Adjustable foot support for tilt regulation (up to 20°)
Body: Sturdy policarbonate body
Body Color: Mirror finishing

Control

Protocols: W-DMX
DMX Channels: 5/9ch
W-DMX: Included, Lumen Radio CRMX receiver
Display: 3-Chars display
IR: IR remote controller for simple control, addressing and settings

Electronics

Dimmer: Linear 0~100% electronic dimmer
Strobe/Shutter: 1-25Hz, electronic
Operating Temperature: 0° ~ +35°
Flicker: Flicker free operation

Electrical

Power Supply: 100-240V – 50/60Hz

Battery

Battery: 11,1VLithium
Autonomy in color change mode, up to: 16h
Autonomy in permanent white full-on, up to: 6h
Recharge Connection: Power cable
Recharge Time: 3h/max
Battery Status: LED battery status indicator

Physical

IP: For temporary outdoor use -IP65 (front) – IP54 (bottom)
Cooling: Natural cooling of the peculiar chassis and to absence of fans
Suspension And Fixing: Hanging bracket suitable for safe hanging and positioning
Dimensions (WxHxD): 88x88x63mm / 3.46"x3.46"x2.48"
Weight: 0,6kg / 1.32lbs